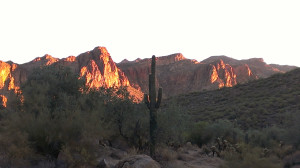 1. The Lost Dutchman Trail

- The Lost Dutchman Trail composed and recorded by Jim Pfeifer 2013 All Rights Reserved
I wrote this song as a self-imposed assignment to write a piece of music in the style of a spaghetti western films of the 1960s. I've always loved that music! This piece is the result of a few months work on the song ideas and arrangement I came up with. Not only did I have to spend some time working up my my whistling technique, I also called on my friend John Ryan to play the harmonica part to get that old-west vibe that I was going for. He nailed it. The real Lost Dutchman Trail is not far from where I live in Arizona. This song is an attempt to capture some of the magic and beauty I see in those picturesque Superstition Mountains.